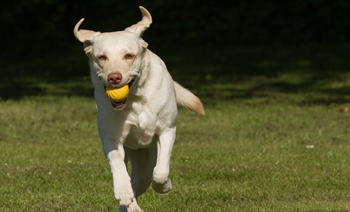 Flyball is a sport you and your Lab can both participate in and enjoy. It started in California in the United States in the early 1970s. It's invention is credited to Herbert Wagner. He created a ball launcher. After a demonstration, he discovered both dogs and owners loved it. The spectators of the new sport also enjoyed it.
The sport took off first in Canada and the United States in the 1980s. It gained popularity in the United Kingdom in the 1990s. It is now considered a serious competitive sport in various countries around the world. There are club competitions and European Championships. It is one of the popular dog sports for spectators. It combines the thrill of a race with the skill of the chase. In a way, Flyball is comparable to a horse steeplechase.
Flyball is a team sport. You need to be a member of a 4 dog-human team. There are often spare dogs increasing the total to a 6 dog-person team. The object of the sport is to run down a straight runway, leaping over 4 hurdles 10 feet apart. At the end, the dog steps down on a lever releasing a tennis ball. As it catapults outwards, the dog seizes the tennis ball in the mouth. He or she then races back to the starting line. Only then can the next member of the team dart off to repeat the process.
The winner is the team who has the fastest time and the least penalties. A dog can incur penalties for dropping a ball. A dog and the team may also receive a penalty for starting too soon. Overeager owners and canines need to control their desire to show off. Flyball is not simply about speed. It is about skill and teamwork. A person and their dog need to be a unit. The participating dogs and owners also need to find common ground. The better they function as a team the more fun they will have and the better the chances they may win.
This is a sport open to all dogs who love agility, running, jumping and balls. Dogs of all size can take part. In fact, small dogs are welcome. The reason for this is simple. The height of the hurdles for each team is based on the shoulder height of the smallest team member.
Before you can join a club and train as a team member, you need to be at least 12 months of age. This is the Starter Level. Dogs younger than that are not permitted. This is to protect them from causing damage to bones and joints.
For further information about the sport of Flyball, contact your local club. Information is readily available about nearby clubs and activities on the internet or through contacting regional dog associations or pet stores.
Further Reading:
The North American Flyball Association
Article provided by Joseph Reid of ohmydogsupplies.com, where you can find a extraordinary variety of ceramic dog bowls