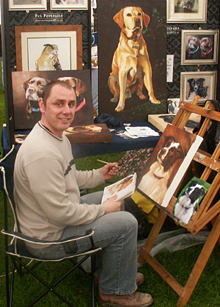 Specialising in Pet Portraits, British artist David Pennington's work is quickly becoming very popular within his home county of Lancashire and neighbouring counties of Yorkshire and Cumbria, the home of England's most famous National Park, the Lake District.
David's Story…
I have always had a flair for painting and drawing. From an early age I attended local art clubs and visited artists studios to learn techniques in every medium possible. Whilst at school, I also enjoyed engineering drawing, which led to a 5-year college study in technical and natural history illustration. On leaving college, I produced a number of airbrush artworks for Blackpool's Pleasure Beach and worked for an advertising company. From starting as a paste-up artist, to eventually working in partnership in a design agency, my true talent and gift as a painter became obsolete. Finally, the business could not compete with the much bigger print houses, so in 2000 I opted to work in education, passing on my experience to others.
In 2004 there was a new member to my household. 'Jake' the Golden Labrador. I decided to get my brushes out, buy some new artist supplies and produce an oil painting. Even my close friends did not believe that I had painted such a lifelike portrait; they didn't even know I could paint at all! From this one painting a number of orders from friends and family started to arrive. I had found that there is a market for this type of art. But how do you find potential clients? Agricultural Shows and Steam Rallies were all outdoor events with large trade and craft stalls to exhibit my work, bringing in visitors and their pets. Together with developing an online gallery, these have given me a good platform in which to promote my work.
Though I work in both mediums of oil and watercolor, you can't beat an original oil painting. Working from photographs, my painting process consists of three stages.
The first stage is to produce a tonal painting of the subject, neatly placing the key features such as the eyes, nose and mouth in a suitable tertiary color. This under painting helps give a foundation to the later stages.
The second stage is to slowly build up the true color of the subject, thinking about the light and shade colors which help sculpt the subject to a photographic quality.
The third stage is to concentrate on the detail of the eyes, nose and mouth, placing highlights, reflection and texture. I don't over paint the fur/coat texture as this can lead to the portrait looking too illustrative. This traditional approach, rather than contemporary has been a success.
I anticipate my artwork taking off more this year than ever before with invitations to exhibit and demonstrate further a field and hopefully across the pond. Though I cannot give up my day job, the future is looking extremely good to becoming a full time Pet Portrait artist within the next five years. And it's all thanks to Jake, like a dogs bone, my talent was buried, then retrieved by one of the most loving breeds of all, the Labrador.
Artist & Illustrator, David Pennington, Lancashire, United Kingdom