Our Charity Walk :: Dartmoor National Park, England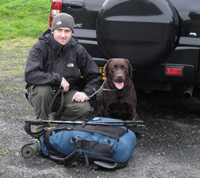 On 31st October 2009 Monty, my chocolate Labrador and I set out on a walk across Dartmoor to raise money for canine cancer research as well as our local Labrador rescue.
Our plan was to cover 27-miles over two days with an overnight stay on the moor. Over the years I've spent countless nights on Dartmoor, but this would be the first time Monty has been on such a long hike over quite possibly the roughest terrain in England. To add to the challenge, the weather at this time of year is virtually guaranteed to be horrendous. Exciting and slightly worrying all at the same time!
DAY 1
We arrived at our starting point on Dartmoor National Park 90 minutes later than I'd hoped. Daylight hours are short at this time of year, and for safety reasons it would be necessary to stop walking before it got dark at around 5pm. 90 minutes was a lot of time to lose.
In an attempt to make up for lost time, we set off at a blistering pace. I was soon regretting not having trained a little bit harder. My backpack only weighed 20kgs (44lbs) but after an hour I felt like I was carrying a house, a double garage, two cars and a speedboat in my pack. Monty was doing fine, tail wagging and sniffing and peeing on every rock and plant on the moor.
After a couple of hours I began to warm up and soon forgot about my backpack and by now, with wet feet, I was actually enjoying myself, almost as much as Monty! I love Dartmoor – it's a wild, crazy and beautiful place. You can, and we did, walk all day and not see a single person. There are few places on our little island where it's possible to be truly alone for so long. Being here with Monty was just fantastic and I felt like the luckiest man alive…until I disappeared up to my knees in a hole filled with black water.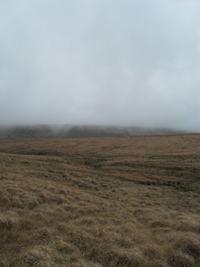 UH-OH! FOG!!
I'd been half expecting fog and at around 2pm, never one to disappoint, Mr Fog made an appearance and he was in no mood for small talk either! Now, Dartmoor is difficult enough to navigate on a clear day, but in fog it's an absolute nightmare. We pushed on regardless but I began to get a nasty feeling that we were veering off course a little, so I decided to call it a day. We were both exhausted at this stage, and I really didn't want to end the first day hopelessly lost.
By 3.30pm we had found a reasonably flat patch of grass and we set up camp for the night. Well I did, Monty watched and barked at imaginary sheep or something.
I had planned on getting at least 11 hours of sleep, after all there was nothing else to do! However, Mother Nature had other ideas. At 9pm she began throwing everything in her extensive arsenal at our puny little tent, and didn't stop all night. One of us had upset the weather gods and I'm blaming Monty!!!
Wind and rain battered our tent throughout the night. The noise was so loud neither of us could sleep. I just lay in my sleeping bag wondering what magical force was keeping the tent in one piece. Then we sprung a leak… just a small leak but I had no idea where it was at the time. All I knew was everything in the tent was slowly becoming very, very wet and I didn't like it. Monty and I were both soaked and shivering, we lay down, cuddled up and waited for daylight. Even when wet, Labradors give off an incredible amount of heat!!!
DAY 2
By the time daylight came I just wanted (and I'm sure Monty did too) to get going again. After a bizarre breakfast of jellybeans, noodles and chocolate, I dismantled our wounded tent and got ready to move on.
The weather was still appalling but at least the fog had cleared and I could see where we were going again.
NICE DAY FOR A SWIM!
The previous evening I had noticed a fairly wide stream about 100 metres south of where we had camped. I'd made a mental note that we would need to cross this in the morning but I was too tired to give it much thought at the time. Besides, I'd done it a 100 times before and it usually goes something like this:
Find a nice narrow part to cross at.
Throw rucksack over to the other side.
Leap across the stream for an emotional reunion with the rucksack.
Nice and easy!
The reality went more like this:
Find a nice narrow part to cross at. There wasn't one. The rain had swelled the stream so much, the narrowest part I could find was around 10 feet wide.
Throw rucksack over to the other side. I just about managed this part.
Leap across the stream for an emotional reunion with the rucksack. It would have taken an Olympic standard long jumper to make it in one leap. I decided to jump onto a rock about 4 feet in to break up the distance a little. Just as I was preparing to leap to dry land I slipped and plunged chest deep into freezing cold water!!!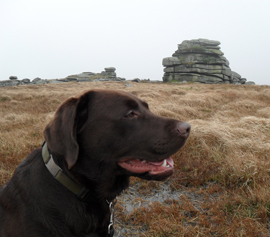 I looked up and saw Monty staring at me as if I were insane from the riverbank. I think he secretly admired my Labrador- like water skills. I knew that my impromptu swim was very bad news and although the situation wasn't yet dire, we would have to get off the moor as quickly as possible.
Day two was a bit of a blur. We moved fast and virtually non-stop for six hours. The scenery was beautiful but unfortunately we didn't have time to really enjoy it. All I wanted to do was complete the hike and get Monty and myself somewhere warm and safe as soon as possible.
At around 3pm I saw the road. We'd made it. We'd completed our challenge and it felt great!!! I'd spent an amazing two days with my beloved dog in one of the most beautiful places in Britain. It hadn't been easy but for the most part it had been tremendous fun. An adventure I will remember for the rest of my life. Monty loved every second of our weekend together and I'm sure he'll remember it as the longest 'walkies' ever!!!
Thanks to everyone who sponsored us. Your generous donations made our walk worthwhile!!!