One Thousand Labradors is a colourful piece of LabArt by Leslie Heywood, a graphic artist and the man behind Labradors Worldwide. Glycee printed to Fine Art Trade Guild standards on a beautiful fine art paper, each print is signed, numbered and comes complete with an attractive certificate of authenticity. The certificate is signed by both the printmaker and the artist.
One Thousand Labradors is a real collectors piece for any Labrador lover. It's made up of 1000 Labrador silhouettes and the names of real Labradors, past and present. All names were supplied by friends of Labradors Worldwide. The task of finding the names was a daunting one to say the least. Without their help, I probably wouldn't have got beyond double figures!
Here's the best bit….even if your Labrador's name doesn't appear on the print, you can add it at no extra cost. You can check to see if your Lab's name is already on the artwork here.
One Thousand Labradors Info: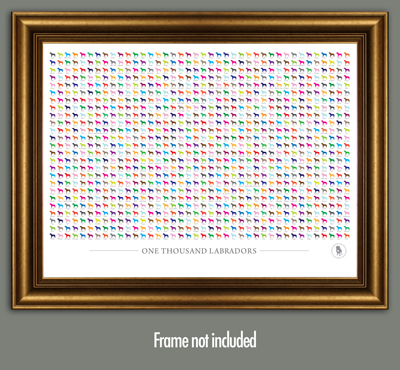 Print Dimensions:
A1 – 840mm (33 inches) x 595mm (23 inches)
Paper:
The print is on 255 gsm Somerset Enhanced Velvet fine art paper. Mould made using traditional methods; this exquisite, 100% cotton paper will look great for many years to come.
Inks:
The inks used on the prints are pigment based. These high quality inks should have a lifespan of over 200 years under normal lighting conditions.
Printing:
The prints are produced by experienced printmakers in Bristol, England using Giclée printing to Fine Art Trade Guild Standards.
Limited Edition:
Only 250 prints will be made.
Customisation:
If you wish, you can have your Lab/Labs in the sitting position to make them stand out. Also, If your Lab isn't on the original artwork, I can add it for you at no extra charge.
Additional Information:
Each print will be signed, numbered and come with a certificate of authenticity.
It's impossible to show One Thousand Labradors in any great detail here. So, If you'd like to take a better look at the print, you can download a scaled down PDF version here. You can also see the complete list of Labrador names that appear on One Thousand Labradors here.
Price:
187 US Dollars (£116) this price includes shipping costs from the U.K..
Ordering Your Limited Edition Print:
Please email me leslie@labradorsworldwide.com and let me know which country you live in.
I'll send you a total price, including shipping.
If you are happy with the price, I will send you a money request for the full amount via Paypal.
Once payment has been made, I'll ask you to send me details of any customisation you require. You can have your Lab/Labs in the sitting position and you can also change the colour to any colour that appears on the artwork
I will then send you a PDF proof of your customised artwork for your approval.
Payment:
Payment is via Paypal. You don't need a Paypal account to make your payment and they accept most debit and credit cards.
If you have any questions about One Thousand Labradors, please feel free to email me
Thanks!
Leslie