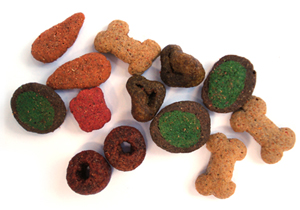 The majority of us enjoy indulging our pets with treats and food, we spoil our dogs with everything from treats to leftover scraps from the dinner table but it rarely comes to mind that we may actually be harming our dogs this way.
With a great demand for pet food and treats, it's become common to find doggie bakeries and frozen treats that cater to this growing industry. The snacks and treats being sold aren't always very healthy for our dogs.
We tend to overfeed our dogs treats and snacks, not realizing that they may be consuming more than their daily caloric requirements. The correct thing to do is to monitor the amount of calories our dogs need daily and how much we feed them and make sure they get a regular amount of exercise. Feeding treats and human food without regular exercise while exceeding the dog's daily caloric requirements will result in obesity. Obesity is one of the major causes of heart problems, heart disease, diabetes and arthritis in dogs. We can literally feed our dogs to death this way.
Feeding a dog table scraps is also risky. Commercial dog food is formulated to provide the right amount of ingredients, vitamins and minerals for dogs and if you choose good quality brands, it provides easily digestible food for your pet. Table scraps and human food may be more tempting for dogs but some of the ingredients used in human food can be lethal to dogs. Onions, grapes, raisin and chocolate can make a dog very sick and even cause death.
Many human food ingredients can cause allergic reactions in a dog, even in small quantities, so be very careful what you feed your dog. Try to feed a balance of dog food and a few pieces of cooked meat or chicken with a few pieces of vegetables to provide your dog with variety and nutritional value.
Another reason you should avoid feeding your dog table scraps is that you will teach him to beg at the table. A good way to feed your dog some leftovers you don't want to throw away is to put them for him in his dish in another room, this way you won't be teaching your dog to be pesky at the table.
If you are a health conscious person, you're probably in the habit of scanning the ingredients list on any foods you buy. You should also do this when you buy your dog any treats or dog food. Look for treats with low calorie and fat content and try to calculate how many treats you can give your dog without going overboard. Following the feeding instructions on the packet can also provide you with a guideline about how many treats to feed your dog. Make sure you calculate the combined calories of the treats and your dog's regular daily food to ensure you don't overfeed the dog.
You should also consult your vet and get their advice on the best diet plan for your particular dog. Not all dogs have the same nutritional needs and your vet is the most qualified person who can give you advice on how to feed your dog based on your dog's age, health, activity level and breed.
Information provided by www.pet-super-store.com