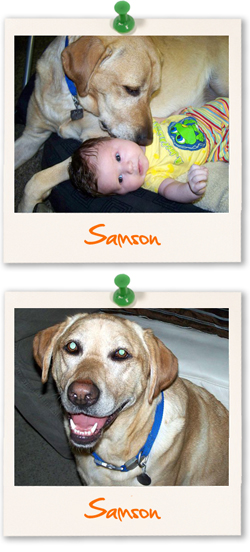 Name:
Samson Trader
How old are you?
4
Where do you live?
Omaha, NE, USA.
Favorite food:
Panut Butter!
Favorite toy/toys:
Kongs
Hobbies:
Love to go for runs/walks and car rides! Also like to be the "mayor" of the Doggie Day Camp pack.
Who is your best animal friend?
Don't have one
Who is your best human friend?
CJ and Sarah Trader
Please describe your perfect day:
Wake up and go for a run with mom. Come home and nap while mom showers (she gives me treats while she gets ready for work!). Help dad with some stuff around the house. Go for a car ride to the Dog Park and play. Go home and get fed lots of food from the baby's high chair. Sit back and relax while the family watches some TV.
Do you like cats?
No!
Any bad habits:
I sometimes take my "sister" Isabella's toys. I also have a habit of being underfoot and tripping people.
What is your favorite website?
LWW of course!
Please feel free to tell us anything else about yourself:
I was shipped around from home to home in my first 4 months until finally ending up with the family I have today. For a while I didn't trust them because I was afraid they would send me away like the others did. But, they kept me and worked with me to be the good dog I am today. I'm definitely a "dog's dog" and can catch, jump high, run fast and love to wrestle! One thing I don't like? Water.