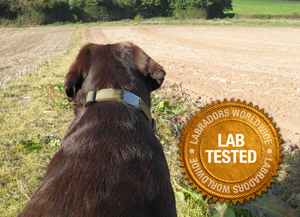 It seems the very best ideas are usually incredibly simple. Indigo Collar Tags are no exception.
John Cook started his company, Indigo Collar Tags after a long and frustrating search for a secure ID tag to attach to his very active Labradors. Like most of us, John had been buying conventional round tags that were often ripped off and left in hedges when his Labs chased rabbits around his farm in Wiltshire, England.
Now Monty isn't a rabbit chaser, he tried once, failed miserably and hasn't bothered since. Myconcern with the round (or any shape for that matter) 'dangly' tags is that they will get caught in something and Monty will get hurt trying to free himself. I read a terrible story once about a dog that did exactly that. The dog had been wearing conventional tags and whilst taking a nap outdoors, the tags dangled down in the gap between two decking boards. The dog woke up to find itself caught between the boards. To cut a not very pleasant story short, the dog panicked and almost strangled itself . Fortunately the owner discovered the distraught dog just in time. A happy ending but I've been paranoid about this happening to Monty ever since.
So, I was delighted when a friend pointed me in the direction of Indigo Collar Tags and was eager to get my hands on one for Monty! For me it means one less thing to worry about. I worry about him way too much anyway 😉
The Only Pet Name ID with a Lifetime Guarantee!
The tags look fantastic and are made from 1.5mm thick non-magnetic surgical steel.They even come with recommendations from Robert Alleyne and Lynne Davies, stars of TV's Dog Borstal. It doesn't get much better than that! The tags work with most types of collar and are very easy to fit. Also, they passed the Labradors Worldwide 'destruction test' with ease. Try as I might, I couldn't pull the tag from Monty's collar!
Indigo Collar Tags guarantee that the tags will never wear out. Unlike conventional tags, the lettering will not rub off through wear and tear.
In Summary:
In my opinion these tags are PERFECT for active Labradors. They look fantastic and will last forever!!!
For more information please visit the Indigo Collartags website:
Indigo Collar Tags are based in the United Kingdom. Overseas buyers are very welcome.
Please Note: There will be an additional £2 charge for overseas shipping.