How the Labrador Came to Be Three Colors
A Short Story By Tammy Nystrom
Long ago, before the trees and grass, hippotami and foxes, men or women, God created the earth and the sky.  She created the sky with stars in it so that people (who hadn't been created yet) could look up and dream.
The earth and sky were the beginning of creation.  God then created the trees and grass, hippotami and fox, men and women.  It was only after the last creation that the real trouble began—before the man and woman caused the never-ending problems in the world, which is however, another story.
God made the vegetation and the animals, but there was a problem.  There were large bodies of water, but nothing that would reach the trees. The trees and vegetation wanted water, in fact they needed water to grow.  Some of the animals ate vegetation so the animals were also affected when the vegetation began to whither and die.  The animals, specifically, Eagle and Lion since they were the animal leaders (self-appointed) called a council. The animals talked among themselves. All the other animals listened to the Lion for ideas.
""How do we get water to the vegetation?" said the rabbit.
"How will we save our plant friends from certain death?" said the giraffe (he liked to smell the flowers because his neck and legs were son close to the ground.)
"Chitter, chitter," said the Squirrel (no one ever understood what Squirrel said).
The Labrador said, "Where are we going to roll and jump and play, and bounce, and, and sniff, and, and…" The Labrador talked a great deal and sometimes actually said something.
After much discussion, it was decided; it was time for snacks. There were always snacks at all official councils; all know people or animals will participate when there is free food.
Sorry, back to the decision. It was decided, "We must get water to the plants," declared Lion in a screech. The Lion's voice was very high so when he made declarations. It was quite humorous.  There was much discussion. Getting water from the river was discussed, but the kangaroo did not think it possible even with his long arms. Kangaroo thought, and rightly so, that it would take too long to get water to all the plants and some would die before they were all watered.
"What we need is a sprinkler!" said a young badger. His mother scolded him for such silliness, in the presence of such a serious problem.
Finally, Eagle who had just flown into the forest mentioned that there were fluffy white things high in the sky that had water in them.  Eagle thought that if they could cause that water from the fluffy things to fall, it would fall on all the plants at once. (The world was not as big as it is today.)
Squirrel said, "Chitter, Chitter." (As always).
It was decided. Someone would have to go up to the fluffy things and get the water.
Now came the really hard part. Eagle asked for volunteers to go on this pretty dangerous mission (although few knew this.) Eagle declared, "I cannot go because I must stay here to make sure the water is distributed properly."
Lion and Eagle were friends from way back.
Mr. Kangaroo said, "I must stay home and care for my Joey." Mrs. Kangaroo laughed.
None of the Animals volunteered. They were all too busy, had a sick cub, chick, lamb, and kid, and had to wash their fur or some other excuse. No one would go. Lion and Eagle both knew that a real leader would volunteer to go, but…
Lion and Eagle thought they all would simply perish for lack of food. Until. Labrador came up, out of the crowd and asked if clouds were fun to jump, pounce, sniff and generally play on.
"I do love to bounce, sniff and jump," bounced Labrador.
Lion and Eagle looked at each other. "Hummmm," both mumbled to themselves.
It was obvious to Lion and Eagle that Labrador was the one to go up to the fluffy things in the sky and try to get the water.
Lion and Eagle stood up straight cleared their throats and authoritatively declared, "Why, of course, Labrador." "The fluffy things are great fun to play on, better than Chuck E. Cheese."
What Labrador didn't know was that no one had ever been on the fluffy things, and it was commonly believed one could not breathe or walk on the fluffy things.  Just for the record, Eagle and Lion just wanted someone else to do this job because they were too afraid to do so themselves. Labrador didn't know this, or much of anything for that matter. What Labrador knew about was loyalty, honor, obedience, and integrity. (Also bouncing, jumping and sniffing.) Labrador thought everyone followed those character rules, but that is another story. Labrador told Lion and Eagle that she would go and while she was playing she would try to figure out a way to drop some water down.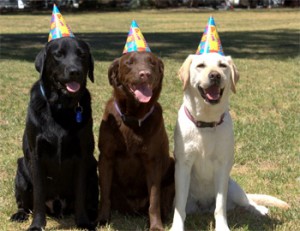 There was a mountain nearby so Labrador figured she could get to one of the fluffy things by using the mountain as a jumping off point.  Labrador ran up the mountain, and she loved that part. She got to the top and saw that the fluffy thing was further away than it looked from the ground.  She thought it had something to do with light refraction and the curve to the earth, but what do Labradors know?
"Well, I guess I'll have to jump," smiled Labrador. Labrador loved to jump, best of all! Labrador backed up then got a running start; she had about 200 feet to clear.
She jumped.
It seemed like forever in slow motion but Labrador cleared the distance. Lion and Eagle watched hoping the fluffy thing would hold her when she landed on the other side.
She landed.
The fluffy thing had held; it was solid enough to hold Labrador. (Fluffy things today could not hold a Labrador, or anything for that matter. Remember two things, first, this is at the beginning of the world, and second, this is a fantasy story; so, don't get all scientific on me.)
Labrador was so happy she bounced, bounced, bounced, bounced, bounced, and bounced. Then she remembered about the water.
'This fluffy thing is very wet inside," sniffed and thought Labrador, "If only I had a bucket, maybe I could use it to collect the water in, but I don't have a bucket?!"
Labrador was bouncing and as she was bouncing, she heard Lion and Eagle yelling up to her4. Labrador looked over the edge of the big fluffy thing and saw water falling on Lion and Eagle. Apparently, the extra movement shook the water out, like when a shook wet beach towel is shaken. Lion and Eagle were leading all the other animals in a rousing cheer for her!
The cheering stopped only long enough for Lion and Eagle to tell Labrador to come down. It took awhile to get the message across the distance and across to Labrador since Labrador is a "Labrador."
Finally, she came down.
It rained for two weeks on and off then a rainbow came out (No one knew what it was, but they decided it was beautiful.), and Labrador went out to play. The animals and plants were saved because of Labrador's bravery Not Lion or Eagle's.
God came down, not an uncommon occurrence, and called Labrador to an audience with her.
"Labrador," called God. "What would you like most in the whole world?" You must be rewarded, as you saved the earth."
Labrador was tongue-tied. "Ah, well, I think, see, mum…"
"Yes, "smiled God.
Labrador meekly asked, "I would like to be a different color, please all-powerful and sovereign God. I'm beige right now, and it is so boring.
"Of course, "exclaimed God. "What color?" inquired God.
"Well the stallion is a beautiful shiny black, the ducks are a beautiful yellow and some of the wolves (I like wolves) are a deep chocolate brown," puzzled Labrador. "I like all three of those colors, but I can't make up my mind."
"So you shall be all," declared God. Instantly, Labrador became black, yellow and brown.
The descendants of the first Labrador are now, only one of those colors because it was only the first who was especially honored. The descendants each carry the honor in their individual color and they all know and practice honor, obedience, loyalty and integrity, and of course, running, jumping, bouncing, and sniffing.
There was one other issue that was explained. The other animals asked Labrador about the terrible rumbling noise that came from the clouds.
The young Badger wondered aloud, "Where did all the noise come from?" "Weren't you afraid?" squeaked the young Badger.
Labrador told young Badger that there was nothing up there with her,  and she heard no noise.
"Probably the noise was just me jumping, bouncing, and sniffing on the fluffy thing," reasoned Labrador.
After that, whenever the noise was heard it was said to be Labradors playing in the clouds.
Oh yes, Labrador named the noise "thudder" because she did hear a "thud" when she tripped on an ice ball and fell. Thudder didn't sound good, but she couldn't think of anything else. About a week later, Labrador had a head cold and pre-nasalized all her consonants, so when she said "thudder" it came out "thunder" and that is the pronunciation that stuck.
Image © Top: Anne McKay Middle: Candice Van Wyk Bottom: Drew Kim Burton – Thanks folks! 🙂