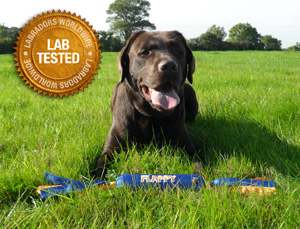 The Floatie from Flappy Dog Toys is a buoyant toy that has been specifically designed for water dogs.

We have had the toy for a while now and it has become Monty's toy of choice when we go for walks. I like it too because unlike tennis balls etc, I don't have to carry it everywhere. Monty happily trots along with it in his mouth. I think he sees it as the next best thing to a nice big stick!!
Although the toy is not intended for aggressive chewers, I can vouch for the fact that it is very tough. Monty did have ago at the fabric tassels but did very little damage and soon got bored. After around three months of use, our Floatie is still in great condition. Pretty impressive considering the amount of use it gets coupled with the fact that Monty usually destroys everything he gets his paws on!
The bright, almost fluorescent orange tassels make the Floatie highly visible in water and mud!!! We regularly play in a field of long grass and have lost countless tennis balls and other toys there. So far, I have always managed to find the Floatie when Monty's retrieval instinct fails him….or he's just being too damn lazy to bother! The Floatie is weighted to make it easier to throw a good distance.
We tested the XL size (22″) for this review

In Summary:
The Floatie is a fantastic toy for a Lab. Highly visible and durable. It really is a classic!!
For more information please visit the Flappy Dog Toys website:
Availability: