Mia's Story
Mia was born in 2008 in country New South Wales (between Canberra and Sydney), Australia. She is one of three pups and the only girl. At 3 months of age she joined our little family and was a special surpirse to keep my daughter Amy company until I came home from Iraq.
She seemed to enjoy the crisp Winters in Canberra and, despite the huge backyard we enjoyed there, she still seemed to prefer just lazing around in the sunshine until, that is, one of us ventured out to play.
She has had very little in the way of training apart from elementary skills such as lead walking and the usual sitting before meals and on demand when she becomes boisterous. At 3 years of age, she still appears to act like a puppy sometimes and all 35kg of her can be quite heavy when she leaps into your lap!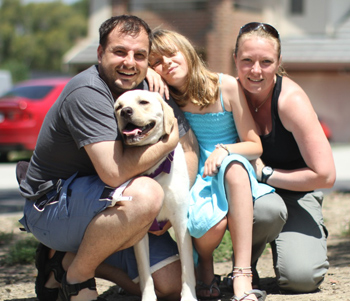 Mia loves the odd pigs ear but her favourite activity is walking out to our local grasslands in Melbourne, where we are now posted, and chasing the swifts as they fly close to the ground at amazing speed. Of course, she will never catch one but this does not stop her trying. She can go for about 30minutes dashing after these fast, agile birds until she comes back and begs to be put on the lead again to head back home for a little nap.
Mia is a precious part of our little family and my 11 year old daughter, Amy, would not be without her best friend.
If you would like too see Lab's story featured on Labradors Worldwide, please email your story and photos to leslie@labradorsworldwide.com