Bake a Dog a Bone :: Book Review
Start a Dog Treat Business
Not so long ago, I was giving Monty, my chocolate Labrador, a treat. Usual scenario, I gave him the treat and it disappeared down his throat in a split second. Okay so he ate, or more to the point, swallowed the treat but I thought to myself "He couldn't possibly have enjoyed that….he didn't even have time to taste the damn thing!!!" Right there and then I decided there had to be a better way. I resolved to make my own treats. The kind of treat that couldn't simply be gulped down, a big, crunchy, nutritious dog treat that Monty would actually enjoy eating.
So, I went looking for dog treat recipes on Google and stumbled upon 'Bake a Dog a Bone'. It wasn't exactly what I was looking for but it caught my eye so I gave it a few minutes of my time. And boy I'm glad that I did!
In a nutshell, Bake a Dog a Bone is an e-book about starting your own dog treat business. As I mentioned earlier, not what I was looking for but it got me thinking. Maybe theres lots of other dog owners out there looking for big, crunchy dog treats? Maybe I could make a business out of this? You guessed it…..I bought the book!
A bit about Bake a Dog a Bone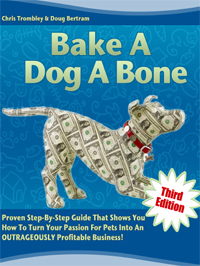 Bake a Dog a Bone is written by Chris Trombley and Doug Bertram, two guys with impressive backgrounds in the pet industry. Chris is a director for a multi-billion dollar manufacturer of pet products and Doug is president of a well respected publisher of pet industry information. Together, they make a formidable team!
The book  is a step-by-step guide for anyone wishing to start their own Dog Treat business. Bake a Dog a Bone contains a wealth of information and insider tips and techniques to get you started in what can be an incredibly lucrative business.
What Bake a Dog a Bone covers:
How to identify a profitable niche target market for your dog treats
How to avoid the number one mistake made by beginners in the pet bakery business
The best type of treats to make and sell
The 'Golden Rule' of customer care in the pet bakery business
The best strategy to test your marketing plan
Naming your company
Tips on where to sell your dog treats
Financial management
You get a free dog treat recipe book packed with 150 specially designed recipes
And much, much more….
It's probably worth mentioning at this point that Bake a Dog a Bone comes with a 100% money back guarantee. So, no risk whatsoever. It doesn't get any better than that!! 😀
My Verdict:
Whats good about Bake a Dog a Bone?
You get a lot of very valuable information for your money with this book. The kind of info that would take you weeks and weeks to find out by yourself. It's priced at just $29.95 (approx. £18 including VAT).
The book is incredibly easy to read and I really can't think of a single area that hasn't been covered. If you're looking for a book about how to start a dog bakery, this is a 'must have'!
In Summary:
I could go on and on telling you how much I love this book but I won't. The fact that this book inspired and helped me to start my very own dog treat business says it all. If you're thinking of starting your own dog treat business I have one piece of advice……buy Bake a Dog a Bone and just go for it!
My Story
As I mentioned at the beginning of this article, I decided a few months ago that I wanted to start my own dog treat business. There was only one problem….I didn't have a clue where to start. I believe that I got lucky when I found Bake a Dog a Bone. Without it I'm 100% certain that my dog treat business, Mister Monty's Dog Treats, would never have got off the ground.
My dog treat business is still in it's infancy but so far things are going great. Far better than I ever anticipated. I launched Mister Monty's Dog Treats at a small show recently and the dogs there absolutely loved them! I'd sold out of one of my flavours (cheese) within two hours!!! Next time I'll definitely be making more!
Running your own dog treat business can be a lot of work, especially in the beginning but take it from me, it's FUN work not hard work!!!
COMING SOON! montysdogtreats.co.uk