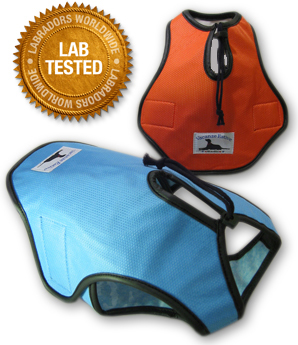 All dogs find it tough to deal with the heat. At this time of year Monty leaves the sofa to seek refuge on the cool tiles of the kitchen floor. Anything to escape the soaring temperatures.
Even on hot days, we need to exercise our Labs and we need to do it safely. Heatstroke is usually associated with dogs that have been left unattended in cars. It can however occur simply because a dog overheats due to excessive exercise on a hot day.
The problem I have with Monty is, despite the heat, he loves his long walks. On one hand I don't want to deprive him of that pleasure, on the other, I don't want to see him come to any harm.
Cool Vest® from Gramercy Distribution, Inc. (New York) seemed to be the answer to my problem. I couldn't wait to give it a try and as luck would have it, we have been enjoying some pretty good weather lately!
Cool Vest :: What is it?
Cool Vest is a lightweight vest that covers the chest area of your Lab. It keeps this area cool , protecting vital organs.
A bit about the vest:
No refrigeration necessary
Easy activation & reactivation with water
Dogs stay dry
No chemical gel beads used
Lightweight and thin
Covers chest area and protect vital organs
Hand washable
How does it work?
Cool Vest works by utilizing a simple scientific principle – cooling through evaporation! The vest is made from a special fabric that absorbs and retains water. As water gradually evaporates, it takes the heat around it. The vest remains effective from 45 minutes to 2 hours. Depending on temperature and humidity.
You just soak the vest in water then put it on your dog. Beautifully simple.
So, how good is it?
I have been delighted with it. Monty has been wearing it for walks over the last three weeks so we really have subjected the Cool Vest to a thorough test!
I noticed that when wearing the vest, Monty didn't feel the need to throw himself into every muddle puddle he found just to cool down. Solid evidence that the Cool Vest® really does work! He was still panting a lot but Monty pants a lot even in winter!
When I first saw the vest I was worried that Monty would manage to tear it in the first few days. I'm happy to say that this wasn't the case. Our vest has been everywhere and it is still in perfect condition. It got dirty but it's easy enough to wash.
Monty also wears his Cool Vest® on long car journeys if it's a particularly hot day. This seems to work very well.
Oh and it also looks incredibly cute 🙂
There's a great video on the Cool Vest® website. The video uses temperature measurement camera to demonstrate how effective the vest is. Watch the video here
In Summary:
A great, innovative and genuinely useful product. Although the Cool Vest® is not a substitute for good old fashioned common sense in hot weather, it does a great job of keeping your Lab cooler.

"You just soak the vest in cold water then put it on your dog. 
Beautifully simple."
Cool Vest® is available online at:
Also available from retailers and online shops throughout the USA
Go here for a full list of stockist's
Also available in the following countries:
United Kingdom, Spain, Canada, Germany, Israel and Australia.
Details of stockist's here
Size Information:
We tested the vest in a LARGE size. To get the best possible fit for you dog, use the Size Guide